This Christmas Season - Peace Restored!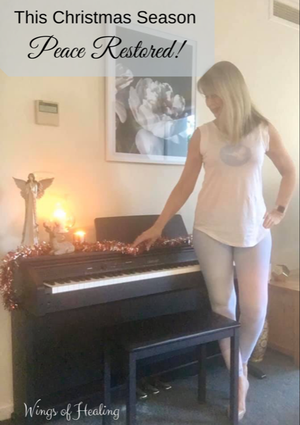 I was asking God what He would like me to post and I immediately saw a vision of some of you feeling pulled in many directions right now, demands being made and burdens placed on some of you, busyness and noise feeling oh so loud as it sought to disturb and rob your peace. When your peace is robbed, so is your joy, and the joy of the Lord is your strength.
If this resonates with you then please press "pause". I certainly understand that when you feel like things and situations are whirling around you, that may not seem so easy. Begin to hand over to God each stress, pressure and pull on you, then invite precious Holy Spirit to take His rightful place and He will delight in doing so. 
Now here comes the challenging part for you may need to say "no" to some demands, pulls and pressures for your time, "no" to people, and that's okay.  It's time for perfect peace to be restored to your inner most being, stillness in the midst of a raging storm is possible, for in the eye of the storm is perfect calm.
May this Christmas season which is all about celebrating our dear Saviors' birth, be one of great blessing, reflection, peace and joy for you.  Then once that peace is flowing through all you do again, protect it and remember, the Prince of peace Himself will always lead you forward.. in perfect peace! 
My prayer is that you will experience in ever increasing measure the beauty, the wonder and the fullness of all that our dear Jesus came to earth to give so freely to you, and that you would know afresh just how much you bring back to Him endless joy. 
In perfect love He humbly came
The gift of everlasting life He gave
The Great I Am, the Prince of peace
Became as man, for us on earth to save!
Love Mandie x
---
---
Leave a comment
Comments will be approved before showing up.