I can only imagine heavens architecture.. WOW!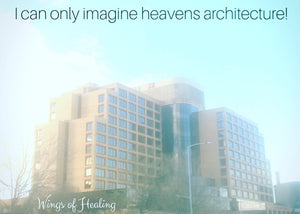 Being a (small scale) building developer was my business occupation up until very recently, I loved it, working closely with my architect creating the plans, enlisting a broader team of talented professionals within their varying fields of expertise and then overseeing and managing every aspect and element of my building project from start through to completion. The process filled with highs, sometimes lows, and always many challenges along the way, but finally as the project slowly neared completion and evolved into reality, it was the best feeling.
I love architecture, awesome buildings, so to enjoy a brief stay in a hotel like this one in the photo I took today has me feeling like an excited big kid on the inside and in awe of all the genius planning, designing, team work etc that has culminated in creating this very building.
Somebody somewhere first had a vision, they labored and toiled, they never ever quit, they very likely came across many obstacles throughout the process, but they persisted and navigated a way through each and every one. Step by step they worked and watched as over time.. and then more time, the vision of this very building became reality and ultimately a place for people all over the world to share, appreciate and enjoy, people like me right now, I like that!
I pause, and I can't help but wonder in my moment of quiet reflection, just how extraordinarily incredible, beautiful beyond comprehension and most definitely above all of our wildest imaginations and dreams that heavens magnificent dwelling places will be, WOW!!
---
---
2 Responses
Leave a comment
Comments will be approved before showing up.